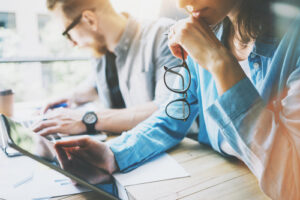 A simple Google search can give you a list of dentists in your area, but how will you know if they're the kind of qualified dentist you want? Knowing how to select an experienced, extensively trained, and patient-focused dental professional can help you and your family enjoy more pleasant and productive visits. As a result, you may also see an improvement in your oral health. Here are a few quick tips for what to look for to find the best dentist for you:
Training & Education: Find out where the dentist was educated and what other training they've undergone. Maybe the most important factor of any medical practitioner is their educational background. Ensuring that your dentist has gone through extensive training and education will almost guarantee they have much-needed experience.   
Practice Philosophy: Review the dentist's practice philosophy and approach to preventive dentistry. 
Continued Learning: Ask how often the dentist attends conferences and continuing education workshops. While a dentist's education and training background is important, it may be equally important that a prospective dentist is a lifelong learner and is continuing their education. It can be critical that your potential dentist is staying on top of dentistry techniques and technology by frequently attending educational conferences.
Dental Anxiety: If you experience dental anxiety, explore the types of sedation dentistry they offer. Sedation dentistry is a common practice among many dentists, and this option can be a key factor if you are someone who gets nervous when going to the dentist. Sedation dentistry is the use of a small amount of anesthesia to calm patients during treatment. 
Emergency Services: Check to see if they offer emergency dental services. If you are deciding on a dentist for the long term, it may be important that they offer emergency dental services, just in case. Read the prospective dentist's website and follow up with their team to ensure their immediate services can satisfy your needs.
Read Reviews: It's important to read the reviews of the dentist you are considering choosing. Dentists should be able to provide past patient testimonials and reviews about their experience at the practice. Additionally, patients should request to see any before-and-after photos of the specific procedure they are pursuing, in order to see if the results are what they are expecting. 
Financing: Ask whether they participate in your dental health plan and/or if they offer financing options.
Additionally, a dental office should be clean, neat, and orderly, and the team members should be friendly, welcoming, and compassionate.
It's perfectly reasonable to speak with more than one dentist to find the right one for you. It can also be very helpful to explore the practice's website and speak to existing patients. Talk to us today for more helpful tips.
Editor's note: The original version of this post was published on December 27, 2016.