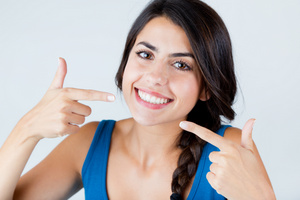 Coffee and wine, citrus and smoking…if you indulge in one of these vices more often than not, chances are that your teeth are starting to color as a result. Take a look in the mirror: have your teeth started to yellow or darken? Is simple brushing with toothbrush or toothpaste not working out?
In Mountain View, CA, our dentist at Smiles By Design offers teeth whitening services to bring that lustre and shine back to your smile. Let's explore what teeth whitening can bring you.
What is Teeth Whitening?
Teeth discoloration is nothing to smile about. Not only is it the result of a lack of oral care, but it could also be masking signs of cavities or an illness. Teeth whitening restores your teeth to a bright, white shine in the span of one appointment. But how does teeth whitening work?
There are a few different ways to achieve teeth whitening. Take-home remedies are available at your local drugstore, and these often contain a specialized bleaching gel, mouth trays, or a toothbrush implement. Professional teeth whitening done in a dental office often involves a similar bleaching gel and a bleaching lamp to achieve great results in less time.
At Smile By Design, Dr. Shen offers a variety of teeth whitening treatments, and we encourage you to schedule a consultation with her. During the consultation, Dr. Shen will walk you through the teeth whitening treatments available and help you make an educated decision on your choice of treatment.
Smile Makeovers
Not all dental stains can be solved with teeth whitening. In fact, if the damage to your teeth goes deeper than the enamel, some darker stains could resist whitening. Also, teeth whitening will not repair or cover up superficial damage to the tooth, such as cracks or chips.
In that case, Dr. Shen is also skilled with other cosmetic dentistry treatments to help round out your smile into one seamless, bright grin. These cosmetic dentistry treatments include:
Porcelain Veneers – a light, porcelain shell that is cemented to the front of the tooth and effectively masks cosmetic dental flaws. Perfect for surface damage or for stubborn stains that resist teeth whitening.

Dental Crowns – an artificial tooth cap, typically constructed from porcelain or other tooth-colored material, that is placed over a tooth to restore the appearance to a natural form.
When you combine teeth whitening with one or more of the above treatments, it's known as a smile makeover, a complete overhaul of your dental appearance. It's not unusual for patients to consider more than one treatment in order to give their smile a confident new dazzle.  If you want to create a permanent new smile, consult with Dr. Shen on the best treatments to achieve that.
Brighten Your Smile Today at Smiles By Design
As our name suggests, we believe that every patient should have the opportunity to change and design their smile to reflect their true personality. A brighter, whiter smile isn't too far away, contact us in Mountain View, CA to schedule that consultation with Dr. Shen. During the consultation, Dr. Shen will evaluate your oral health, answer any questions you may have, and help you discover if teeth whitening or a smile makeover is best for you and your smile.