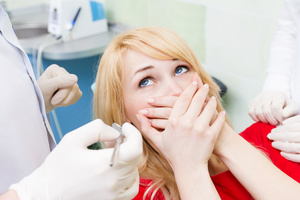 For some patients in Mountain View, CA simply walking through the door of our dental office can be a struggle. They have lived with a fear of the dentist, whether it was the sight, sounds or even smell of the office. When it comes to preparing for your dental treatments and procedures at Smile By Design, there are a number of calming techniques you can do to relieve your dental anxiety and bring about a more relaxed and comfortable experience. Also, if necessary, we have a few sedation dentistry techniques to help you out.
Discuss Your Fears and Schedule an Early Appointment
For some patients, it helps to discuss their fears before moving forward with a treatment. If you will be undergoing a dental procedure such as a wisdom tooth removal or a tooth extraction, please let our dentist and our staff know how we can make your visit more comfortable. We can also schedule you for an early appointment, so that it's out of the way as soon as possible in the morning time.
Listen to Music or an Audiobook
While you're heading to our office or sitting in the waiting room, listen to music or an audio book while you wait. This can be especially helpful for patients who are unnerved by the sounds of a dental office. During your appointment or consultation, feel free to ask Dr. Shen or our friendly staff if you can listen to your music or audio book while you're in the chair.
Squeeze a Stress Ball
If your hands get clammy or you have an overall sense of mild unease while you're in the chair, bring a stress ball with you. You can squeeze it any time you feel anxious and let the stress ease out through your muscles.
Painless Procedures
Many patients with dental anxiety come into our office with a fear of the dentist because they're afraid that their treatment will be painful. Rest assured that a majority of our procedures will be pain-free, as they usually occur on the surface of your teeth and gums. If more invasive treatments are needed, such as a filling or root canal, we utilize a series of local anesthetics to numb that area so all you feel is a gentle pressure instead of pain.
Sedation Dentistry Options
As mentioned above, it's not unusual to meet a patient who struggles to walk into the door or sit in the chair due to their heavy anxiety. At Smile by Design we have a few sedation dentistry options to help you feel relaxed and comfortable in the chair.
Oral Conscious Sedation consists of a few pills that are consumed prior to your appointment, so that by the time you reach our office, you'll feel calm, but conscious and able to answer the dentist's questions.
IV Sedation is sedation administered through the arm in an IV. It has similar properties and effects like oral conscious sedation, but has the added bonus of the patient being unable to recall the procedure or treatment.
Please be aware that for both sedation dentistry options, you must have a family member or friend with you to transport you to and from our office. Due to the effects of the sedation, you will not be able to operate a vehicle.
Contact Us About Your Dental Fears
If you have dental anxiety or a deep fear of the dentist, don't let your fear get in the way of getting the treatments you need. It can be costly to your health and your wallet if you postpone treatments and procedures that are direly needed. Contact us today to schedule a consultation with Dr. Shen and discuss your dental fears. We'll work with you to find the best solution to relieve your dental anxiety.