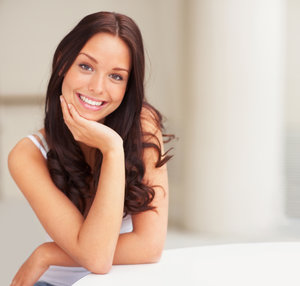 As the holiday season is in full swing, there's no doubt that you have taken many photos already. Family photos for the holiday cards, photos while decorating the tree, photos while out with friends or the company holiday party, taking photos for that New Year's Eve party. In any scenario, you'll be flashing your teeth plenty this winter season, and you've been making sure that your teeth are picture perfect.
However, for those with one or more missing teeth in Mountain View, CA smiles don't always come so easily.
How Tooth Loss Affects You
Studies have shown that tooth loss can have all sorts of adverse effects on patients of different conditions. From your psychological well-being to how others perceive you, your smile can determine a lot in your life, so it's vital that after tooth loss you search for a viable tooth replacement such as dental implants.
Appearance
When a tooth is lost, the dark gap in your smile can be a little off-putting to some. It can also affect your facial appearance as well. The gap in your jawbone as a result can weaken, leading to that sunken facial appearance that is often associated with patients who lose teeth. This sunken appearance can make you appear older or sickly, and as a result of the depleted jawbone, other teeth in your mouth may begin to shift.
Self-Confidence
During these winter holidays, a smile with a missing tooth can leave you like a wallflower at social gatherings. Patients have found they were smiling and laughing less as a result of their tooth loss. In one study, they found that patients with missing teeth were found to have links to serious conditions such as anxiety or depression.
Perceptions
Studies showed that people with crooked or missing teeth were looked upon less favorably than those who had full, straightened smiles. When it comes to making that critical first impression, be it a blind date, a job interview, or an important presentation, you'll want to ensure that your smile is up to par with your personality.
What Dental Implants Can Do For You
Now that we've explored how tooth loss can affect you both psychologically and physically, there are solutions that can help to alleviate these struggles. At Smile By Design, our dentist encourages our patients to consider dental implants as their chosen tooth replacement, thanks to the reliability and stability of these titanium artificial teeth.
Improving Your Oral Health
The main draw of dental implants lies in the osseointegration process. This fusion process entails embedding the titanium implant into the jawbone, wherein the bone weaves fibers around the implant to bond it to the bone.
Dental implants have been proven to improve the state of a patient's oral health in addition to their appearance. The bone regrowth strengthens the jawbone as a whole, allowing patients to smile brightly and also tackle those holiday foods and sweets that they love so much.
Contact Us at Smile By Design
At Smile By Design, we encourage our patients to look into dental implants as their chosen treatment. These artificial teeth can not only improve your appearance and oral health, but also can revitalize your self-confidence. What's more, they can be a one-time investment for a lifetime guarantee of a perfect smile, thanks to the permanence of dental implants. Contact us today to learn more about dental implants and what they can do for you, and to schedule a consultation with Dr. Donian Shen. Dr. Shen will evaluate your oral health, discuss your option in-depth, and ultimately help you decide if dental implants are the best for you.