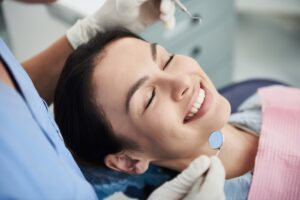 When your tooth is severely damaged, decayed, or weakened, sometimes the best course of action is removal. A tooth that's proving to be a problem can negatively affect your overall oral health, so tooth extraction, followed by restorative treatment, may be required to alleviate discomfort and symptoms. If a space is left in your smile after extraction, the risk of further complications is greater. One of the potential complications is bone loss. If a tooth root is not present to stimulate the jawbone, the jaw structure is more likely to recede and withdraw. Bone loss can also lead to loose teeth, difficulty chewing, and possible changes in facial shape. 
After tooth extraction, there are a variety of treatments that can restore your smile, address gaps left by missing teeth, and reduce chances of bone loss, including: 
Single dental implant – A common procedure for smile restoration is dental implants. The technique addresses missing or damaged teeth with customized replacements that can produce natural-looking results. With adequate jawbone density, dental implants are anchored into the bone with titanium posts for a secure hold. For patients with insufficient jawbone density, bone grafting can be utilized so the implants can be properly and effectively supported. 
Implant bridge – An implant bridge can replace multiple missing teeth in a row and, similar to dental implants, employs titanium posts anchored into the jawbone as a stable replacement. Like a structural bridge, this treatment "bridges" the gap left by missing teeth by connecting the replacement tooth or teeth to the adjacent ones. 
Implant-supported dentures – For patients in need of full row replacement, implant-supported dentures may be the ideal approach. The treatment combines dental implants and traditional dentures, so the implants are surgically placed into the jawbone and the dentures can attach to them. The number of posts needed will depend on your specific needs and goals. For example, All-on-4® utilizes four dental implant posts, while the All-on-6 technique entails six posts anchoring a single full-arch denture to the upper or lower jawbone. 
At Smile By Design, Dr. Donian Shen and her team are dedicated to providing patients with a beautiful and healthy smile. Dr. Shen recognizes the frustration and potential risks of missing teeth, and can help restore the aesthetic appearance and functionality of your mouth. For more information about tooth extraction and treatments that can help prevent bone loss, contact our office to schedule a consultation.