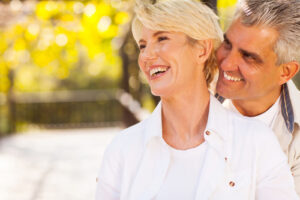 One of the most common concerns experienced by people who have lost teeth is whether they can use dental implants to restore their smile. Considered the gold standard treatment for missing teeth, dental implants are most effective (and typically only recommended) when the patient has sufficient existing bone density. Unfortunately, one of the side effects of long-term missing teeth is bone loss, leaving many patients wondering what alternatives they have. Dr. Donian Shen, our extensively trained dentist, explains that dental implants can often still be an option with the help of bone grafting.
Bone grafting is a procedure in which bone is added to the jaw to enhance the density, strength, and support of the oral structures. The bone can come from somewhere else on the body such as the hip, it can come from donated cadaver tissue, or it can come from a suitable animal. The bone is surgically implanted into the jaw where needed in an outpatient operation that usually takes a few hours. Once the bone has fully healed, around six to nine months later, dental implants can be placed to restore the smile.
One of the most important things to know about bone grafting is that this technique should only be performed by an extensively trained and highly qualified dentist. Dr. Shen's comprehensive experience provides her with the skill necessary to achieve unsurpassed results.