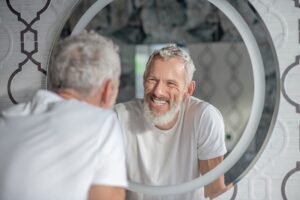 Missing teeth can cause cosmetic and functional concerns. Fortunately, there are multiple dental treatments that can alleviate those concerns using dental implants. Designed to replace multiple missing teeth, implant dentures offer a more natural look and feel than traditional removable dentures. This innovative dental solution can enhance a patient's appearance, minimize wear and tear on the gums, and preserve jawbone integrity (since the implant posts stimulate the jaw tissue, preventing it from being resorbed by the body after tooth loss). The exact number of implants required to support implant dentures varies across patients, depending on individual needs, oral health, and aesthetic goals. With Dr. Donian Shen at Smile By Design, patients can receive a comprehensive consultation and personalized treatment plan that addresses their dental concerns. 
A popular method for full mouth implant restorations is the All-on-4® technique—also sometimes referred to as "teeth in a day" or All-on-6—which utilizes as few as four implant posts per arch to support a denture prosthetic. Dr. Shen's extensive expertise allows her to precisely plan out the placement for the individual implant posts for optimal stability and durability. The All-on-4® technique provides greater security, natural-looking results, and oral preservation—and even patients with diminished jawbone density after long-term denture usage can be good candidates. Additionally, All-on-4® offers patients immediate improvements when it comes to eating and speaking, as well as long-lasting tooth replacement. During a consultation, Dr. Shen can assess your individual oral anatomy and jawbone density in order to determine how many implants will be needed to support your new teeth.
To learn more about implant dentures and which method may be right for you, contact our office to schedule a consultation.