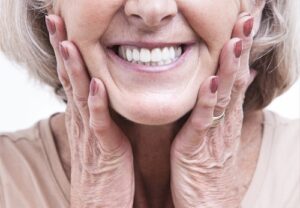 Many patients find that they have several dental concerns they wish to address, in which case full mouth reconstruction may be the best approach. We offer this fully customized, state-of-the-art procedure at our office. Dr. Donian Shen, who is extensively trained in the most advanced dental techniques available, can help you tailor your treatment plan to best suit your needs, goals, and preferences in a compassionate and comfortable environment.
What Is Full Mouth Reconstruction?
Full mouth reconstruction is a procedure that combines two or more restorative dental techniques to improve the health and function of the mouth. Some of the concerns that patients may wish to address include:
Missing teeth
Chips, gaps, or cracks
Misalignment
Deep staining
Gum disease
Cavities
Malocclusion (bad bite)
TMJ disorder
Mercury fillings
The difference between a full mouth reconstruction and a Smile Makeover is the purpose: A Smile Makeover is primarily intended to achieve aesthetic enhancement; full mouth reconstruction is designed for functional improvement. That said, this approach can be customized by our dentists to include cosmetic treatments as well, if desired.
What Are My Full Mouth Reconstruction Options?
We offer a comprehensive array of restorative techniques that can be used to enhance your smile and improve your oral health. Some of the options commonly included are:
Mercury-Free Dentistry
TMJ Disorder Treatment
Bite Correction
To make your experience as comfortable as possible, we offer sedation dentistry techniques. If you suffer from dental anxiety, these methods can help calm and relax you for a more enjoyable appointment.
What Are the Steps of a Full Mouth Reconstruction?
The first step in a full mouth reconstruction is the initial consultation and evaluation. Dr. Shen will examine your oral structures, discuss your needs, and develop a customized treatment plan. We will then go over the step-by-step process and timeline for completing each technique as well as the entire restoration. We encourage you to ask questions, voice any concerns, and involve yourself in this experience. This is your smile, and we want you to be comfortable and confident in the result.
How Much Does Full Mouth Reconstruction Cost?
Since treatment is personalized to suit each patient, the price of full mouth reconstruction will vary depending on which techniques are used and the complexity of your individual needs. We will discuss the cost of your program during your initial consultation so that you are well-informed before beginning. We also provide cost information on many of our procedure pages, so we invite you to explore the techniques you are interested in to learn more. In addition to our monthly dental specials, we can help you find payment and financing options that fit within your budget. We believe everyone should have access to a beautiful, healthy smile, and our team is here to help.
Have more questions? Contact us today to learn more and to schedule a free consultation with Dr. Shen.*