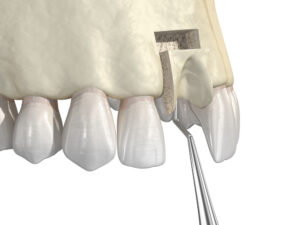 Bone loss can occur in any area of the jaw where one or more teeth have been missing for an extended period of time. Dental implants are considered to be the gold standard treatment for missing teeth; however, candidates will need adequate jawbone structure to support the dental implants and to achieve successful results. Fortunately, a deficiency in bone density can be addressed using a surgical technique called bone grafting. Dr. Donian Shen is an extensively trained implant dentist in Mountain View with comprehensive experience performing block bone grafting, soft tissue grafting, and dental implantation.
What is Bone Grafting?
Bone grafting is a dental procedure that addresses insufficient jawbone density by replacing missing bone, typically from tooth loss or gum disease, with bone grafting material. This process stimulates regeneration so that as the natural bone grows, it is absorbed by the graft material for new growth. The technique can help improve the structural integrity of your jaw and is commonly used before dental implant surgery, so there's a strong enough foundation for the implant posts to be anchored to.
What Are the Different Types of Bone Grafting?
Bone grafting can be performed in a number of ways, and the best approach for your needs and goals will depend on several factors. Dr. Shen will evaluate your oral structures and develop a customized treatment plan based on your anatomic indicators. Generally speaking, repair of the jawbone structure can be achieved using one of three different types of grafts:
Autologous bone graft – This is bone taken from elsewhere on the patient's body, such as the chin or hips, and transferred to the jaw.
Allograft bone – This is bone donated from another pre-screened, healthy body (of a deceased individual who volunteered their body for this purpose), which is then used to restore the jaw.
Animal bone graft – This is bone that comes from an animal that has the same bone composition as a human, such as a cow.
How is the Bone Grafting Procedure Performed for Dental Implants?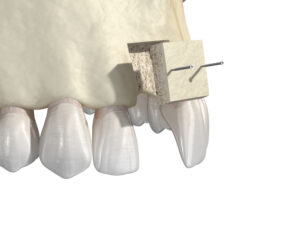 The bone grafting procedure typically begins with local anesthesia being administered to numb the site. If you're using bone tissue obtained from your own body, Dr. Shen will source the bone from a previously chosen location. Additionally, if a tooth needs to be removed, this would be the time for tooth extraction.
Next, the area will be cleaned thoroughly. If tooth extraction is not needed, Dr. Shen will then make an incision in the gum tissue, which exposes the bone. The bone graft material will then be attached to the exposed section of bone. After the material is placed, the incision will be sutured closed. Pins, plates, and wires may be utilized to hold the gum tissue together. If the bone was sourced from elsewhere on your body, that area would be stitched together as well.
The bone graft procedure is typically an outpatient procedure, meaning you should be able to return home the same day. Once the bone graft (and, if necessary, soft tissue graft) has been placed, the jaw will need time to heal. This process usually takes between six and nine months. After the bone is fully repaired, the dental implants can then be placed. Each step of the dental implant service is very important in achieving the best possible outcome. While some patience is necessary, people often report such high satisfaction with the results that they don't mind the time it takes it obtain it. They are simply happy to have a beautiful smile with comfortable, functional teeth and gums.
Does Bone Grafting Hurt?
The bone grafting procedure is performed using local anesthesia, so no pain should be felt. As needed, sedation dentistry techniques can be employed for enhanced comfort and relaxation. Some patients have noted mild discomfort during the healing process, which can be managed with prescribed or over-the-counter pain medication.
What is Recovery from Bone Grafting Like?
While the recovery process can vary from patient to patient, bone grafts typically take six to nine months to completely heal. After that, patients can proceed with dental implant surgery. Swelling, bruising, and discomfort are common feelings around the incision site, and can also be managed with pain medication or ice packs.
Dr. Shen will provide detailed post-operative instructions for patients that address their specific procedure, but common directions include:
Avoid touching the grafted areas or stitches with your tongue or fingers
Steer clear of hard or crunchy foods that could disrupt the graft site
Take at least two weeks off from strenuous activities
Avoid smoking and alcoholic beverages, as those slow down the healing process
Choosing a Qualified Bone Graft and Dental Implant Dentist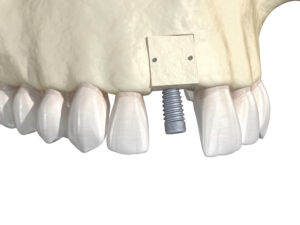 It's important to select a dentist with extensive bone and soft tissue grafting experience to ensure the highest level of care, safety, and results. Dr. Shen completed post-graduate training in dental implantation at the prestigious Carl Misch Institute under the advisorship of Dr. Carl Misch. She is skilled in performing block bone grafting, soft tissue grafts, dental implants, and full mouth reconstruction. Additionally, Dr. Shen is a Fellow of the International Congress of Oral Implantologists (FICOI) and a member of the American Academy of Cosmetic Dentistry (AACD). Her comprehensive training allows her to provide unparalleled treatment utilizing the most advanced techniques available.
What Are Other Types of Bone Augmentation?
There are multiple bone augmentation types beyond just bone grafting. Other techniques may be utilized depending on patient needs, such as building new bone and supporting dental implants.
Sinus Augmentation – Sometimes known as a sinus lift or subantral graft, this procedure increases the bone's height in the upper jaw above the premolar and molar teeth by raising the sinus floor. This helps support dental implant placement.
Socket Preservation – The socket preservation augmentation places a bone substitute in the socket and covers it with a barrier membrane, a device that prevents epithelium from growing in the bone area. Also known as alveolar ridge preservation, this technique can reduce the possibility of bone loss after tooth extraction.
Ridge Expansion – The ridge expansion method creates new bone by dividing the jawbone into both an inner and outer section, so bone graft material can be inserted. This procedure also widens the jaw so dental implants can be supported.
For more information about dental implants, bone grafting, and Dr. Shen's experience, please contact us today. Our friendly and knowledgeable team is happy to answer questions and to help you schedule a free consultation with Dr. Shen.*