What Are Dental Crowns?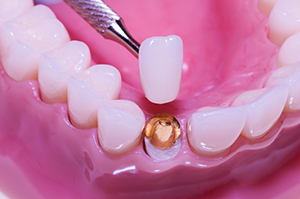 Porcelain and ceramic dental crowns from one of the top Mountain View dentists, Dr. Donian Shen, offers enhanced strength and protection for teeth. A filling can be an effective technique to address minor dental decay. Sometimes, however, a damaged tooth will require a more substantial restoration. Crowns are most commonly used as the cap on a dental implant or after a root canal, but they can also be used in bridges and to repair a significantly damaged tooth. Designed to be durable and natural-looking, dental crowns can help you restore the beauty and function of your teeth, and they may even improve your confidence in your smile.
Dental Crowns Vs. Veneers
Some dental concerns may be addressed using either dental crowns or porcelain veneers, but generally these treatments have two different goals. Porcelain dental veneers are designed to enhance the appearance of your smile. This is a cosmetic procedure that removes a thin layer of enamel on the front of the tooth, which is then covered, or capped, by the veneer to create a more appealing look. Dental crowns are intended to restore your smile; they offer functional improvement, although there is also a cosmetic benefit. Dental crowns are used to cap damaged teeth or implant abutments. During your initial consultation, we can help you understand which approach is best for your expressed goals and anatomic needs. It may be that either option could work for you. We're happy to provide the information you need to make the best decision for you.
What Are the Benefits of Porcelain Crowns?
At Smile By Design we utilize both ceramic and porcelain dental crowns to best suit your needs and goals. Each offers unique benefits, although most people prefer the beauty and strength of porcelain dental crowns. Generally speaking, dental crowns of either material can:
Support a damaged or decayed tooth
Protect a tooth from additional wear and tear
Restore a tooth after a root canal
Hold a damaged or cracked tooth together
Cover a dental implant
Improve the appearance of a tooth that is stained or misshapen
The Dental Crown Procedure
Placing a dental crown typically takes between two and three appointments, as we strive to ensure your crown fits precisely, feels comfortable, and looks as natural as possible. Prior to the last appointment, you will be furnished with a temporary crown. While it's unusual for an interim crown to come out, you should call us right away if this occurs. Be sure to floss gently while wearing the temporary crown. After each appointment, you may experience some mild sensitivity to heat, cold, and pressure; however, these effects should subside quickly. Swelling and discomfort often can be relieved by swishing with saltwater. We also encourage you to avoid chewing and eating until any numbness wears off. The final crown will be placed a few weeks after the procedure and made to fit comfortably, securely, and beautifully within the mouth.
How Much Do Porcelain Dental Crowns Cost?
The price of a dental crown will depend on the particulars of your treatment plan. The total cost can range from about $500 to $2,500 per tooth, depending on the material, the complexity of the case, and what other techniques and appliances may be needed. For instance, placement of a ceramic crown to protect a cracked tooth will cost less than the placement of a dental implant capped by a porcelain dental crown. We will review the full estimated cost of your program with you so you will be well-informed. If you are interested in dental financing options, we can guide you toward a reputable lender.
How Long Do Porcelain Dental Crowns Last?
It's essential to have a qualified and skilled dentist perform your dental crown procedure to ensure the outcome will be durable and long-lasting, as well as beautiful. Crowns can last anywhere from five years to over 15, depending on the material, restoration technique, oral maintenance, and patient health. Many of our patients are still happily using their crowns from our office decades later. Brushing, flossing, and visiting the dentist regularly can help your dental crown remain strong and sturdy for many years.
If you would like to know more about how dental crowns can restore your smile, contact our office today. Our friendly and knowledgeable team is happy to answer questions and to help you schedule a free consultation with Dr. Shen.*