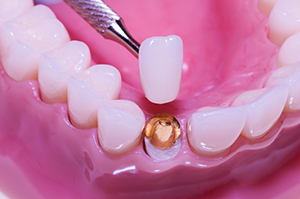 A filling can be an effective technique to address minor dental decay. Sometimes, however, a damaged tooth will require a more substantial restoration. Porcelain and ceramic dental crowns from our skilled dentist, Dr. Donian Shen, offer enhanced strength and protection for teeth. Crowns are most commonly used as the cap on a dental implant or after a root canal, but they can also be used in bridges and to repair a significantly damaged tooth. Designed to be durable and natural looking, dental crowns can help you restore the beauty and function of your teeth, and they may even improve your confidence in your smile.
At Smile By Design we utilize both ceramic and porcelain dental crowns to best suit your needs and goals. Placing a dental crown typically takes between two and three appointments, as we strive to ensure your crown fits precisely, feels comfortable, and looks as natural as possible. Prior to the last appointment, you will be furnished with a temporary crown. While it's unusual for an interim crown to come out, you should call us right away if this occurs. Be sure to floss gently while wearing the temporary crown. After each appointment, you may experience some mild sensitivity to heat, cold, and pressure; however, these effects should subside quickly. Swelling and discomfort often can be relieved by swishing with saltwater. We also encourage you to avoid chewing and eating until any numbness wears off.
If you would like to know more about how dental crowns can restore your smile, contact our office today. Our skilled dental team will be happy to answer questions or help you schedule an appointment with Dr. Shen.