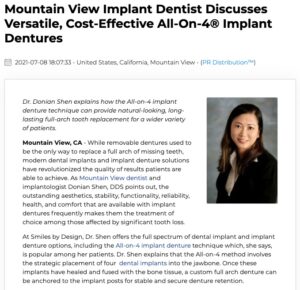 Dr. Donian Shen explains how the All-on-4 implant denture technique can provide natural-looking, long-lasting full-arch tooth replacement for a wider variety of patients.
Mountain View, CA – While removable dentures used to be the only way to replace a full arch of missing teeth, modern dental implants and implant denture solutions have revolutionized the quality of results patients are able to achieve. As Mountain View dentist and implantologist Donian Shen, DDS points out, the outstanding aesthetics, stability, functionality, reliability, health, and comfort that are available with implant dentures frequently makes them the treatment of choice among those affected by significant tooth loss.
At Smiles by Design, Dr. Shen offers the full spectrum of dental implant and implant denture options, including the All-on-4 implant denture technique which, she says, is popular among her patients. Dr. Shen explains that the All-on-4 method involves the strategic placement of four dental implants into the jawbone. Once these implants have healed and fused with the bone tissue, a custom full arch denture can be anchored to the implant posts for stable and secure denture retention.
According to Dr. Shen, using the All-on-4 approach offers patients many benefits when they are compared with removable dentures and other implant denture techniques:
Patients are able to chew, speak, smile, and maintain good oral hygiene with ease.
Since implant-supported dentures do not shift or move in the mouth, patients generally experience a long-lasting, comfortable fit.
Patients can confidently enjoy all of their favorite foods without restrictions.
Denture aesthetics and positioning can be optimized to create a balanced, natural-looking smile.
Dental implant posts can stimulate jawbone growth to maintain healthy bone density and structure, which is necessary for optimal dental health and facial aesthetics.
A wider range of patients may be good candidates for All-on-4—even those who have experienced some degree of jawbone loss.
All-on-4 may be a more cost-effective solution when compared to other techniques that require more dental implants for a successful result.
Determining whether patients are candidates for All-on-4 requires a comprehensive evaluation of the individual's overall oral health, the dental structures, and jawbone, says Dr. Shen. At Smiles By Design, Dr. Shen explains that patients can expect the consultation process to include a thorough examination and state-of-the-art imaging with the latest diagnostic technology—including digital X-rays and three-dimensional CT scans. Based on the findings, she can determine whether a patient is a good candidate for implant dentures. In some situations, individuals with certain oral health concerns, such as gum disease, infection, or teeth that need to be extracted, will need to have these issues addressed before implants can be placed, she says.
Customizing dental implant treatment to the individual should always be a top concern for any implant dentist, according to Dr. Shen. For fully personalized treatment, Dr. Shen utilizes advanced three-dimensional treatment planning software, which helps her design a surgical plan and full arch restoration that are perfectly suited to the individual's anatomy, dental needs, and cosmetic goals. For optimal continuity of care at all stages of the implant denture process, Dr. Shen has chosen to perform every aspect of treatment within her practice. Her experience and training make it so that she does not need to refer patients out to specialists for pre-treatments, bone grafting, sedation, implant placement, or denture design/placement. Dr. Shen explains, "Keeping the entire treatment process in-house allows me optimal control over the quality, success, and final outcome of every implant denture procedure—it's also convenient for patients to come to one office for all of their care."
For individuals who are considering dental implants and implant dentures, Dr. Shen recommends doing a lot of research about the various practitioners who offer these services—she advises that only dentists with advanced training in implant dentistry and extensive experience performing dental implant procedures should be considered. The placement of dental implants is a surgical procedure and it is important to minimize the potential for risks and complications by choosing a qualified and properly credentialed dentist who has a great reputation, a proven track record of implant success, and a wealth of satisfied patients, she explains. Ultimately, Dr. Shen says, if achieving a full, healthy, beautiful smile with dental implants is the goal, then taking extra time to select and evaluate your dentist and their approach to care is always wise.
About Donian Shen, DDS
Dr. Donian Shen is a graduate of the University of California, Berkeley, and she earned her Doctor of Dental Surgery (DDS) degree from the University of California, Los Angeles School of Dentistry. For advanced training in a broad spectrum of oral implantology techniques, Dr. Shen mentored under Dr. Misch at the Carl Misch Institute. She has also obtained specialized credentialing as a Fellow of the International Congress of Oral Implantologists (FICOI). For the comfort and safety of her patients, Dr. Shen is also trained in oral conscious and IV sedation dentistry through the DOCS Institute. As a leading practitioner in her field, Dr. Shen is an active member of several prestigious dental associations, including the American Academy of Cosmetic Dentistry (AACD) and the American Dental Association (ADA). She is available for interview upon request.
For more information about Dr. Shen and her practice, please visit shendds.com and facebook.com/DrDonianShenDDS.
###
Smile By Design
105 South Drive, Suite 140
Mountain View, CA 94040
(650) 938-1868
Rosemont Media
(800) 491-8623
www.rosemontmedia.com