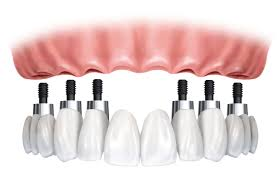 One of the most common ways to replace all missing teeth is to use traditional dentures. However, this approach can have a number of drawbacks. Many patients complain about an uncomfortable fit or about the messy, ineffective dental adhesives required to keep the dentures in place. Additionally, traditional dentures cannot preserve facial bone strength and density. Fortunately, there is another option. Implant-supported dentures from our experienced dentist, Dr. Donian Shen, can provide numerous functional and aesthetic benefits. In her hands, your smile can feel whole and natural again. You can also find more information on our Implant Service page.
What Are Implant-Supported Dentures?
Implant-supported dentures are similar to dental implants in many ways, but there are some important differences. Dental implants, for instance, typically replace one or several missing teeth. Implant-supported dentures, on the other hand, are designed to replace all missing teeth. Both procedures typically begin the same way. You will receive a comprehensive consultation with Dr. Shen, who will evaluate your gum and bone structure to determine if you have adequate tissue for the treatment. If so, she will then surgically implant a number of titanium posts into your jawbone onto which the restorative dentures eventually will be attached. The number of posts needed to optimize your results will depend on your unique needs and goals. Dr. Shen will discuss all of this information with you prior to your operation.
Once the implants have fused to the jawbone, Dr. Shen will create an impression and customize your dentures to suit your anatomy and aesthetic desires. Our state-of-the-art techniques and technology help to ensure your outcome is as natural-looking and durable as possible. Once the dentures are finished, Dr. Shen will attach them to your implants. You can then enjoy your newly rebuilt smile with confidence.
Benefits of Implant-Supported Dentures
With implant-supported dentures, you can again indulge in many of the foods you may have had to give up with traditional dentures. They can also provide a freedom and confidence you may not have thought possible. Other benefits include:
Improved comfort when eating and speaking
Preservation of jawbone integrity and strength
Enhanced appearance
Reduced likelihood of movement or slippage along the gumline
Minimized wear and tear on the gum and soft tissues
Long-lasting results
Removable
Implantation from start to finish can take between four and eight months to complete. Though this may seem lengthy, the process of achieving long-term function and beauty of your teeth should not be rushed. It's important to note, proper care of your dentures is essential. Just like natural teeth, your dentures should to be brushed and flossed to reduce the risk of damage and decay. Dr. Shen will detail any special instructions for you to follow, though typically implant-supported dentures will be lower-maintenance than traditional dentures.
For more information about implant-supported dentures, please contact our office. Our friendly and knowledgeable team is happy to answer questions and to help you schedule a complimentary consultation with Dr. Shen.