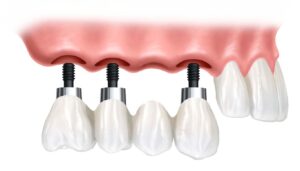 At Smile By Design, we perform state-of-the-art dental techniques in a comfortable, welcoming environment. Our experienced Mountain View dentist and implantologist, Dr. Donian Shen, offers the full scope of treatments, including bone and soft tissue grafting, the placement of dental implants, and tooth restoration. We also utilize highly innovative dental technology and employ the strictest sterile protocols possible to increase the success of our surgeries. We understand that your time is valuable, and we offer a wide range of services in-office, including certain laboratory testing, to reduce your treatment time.
How We Provide Exceptional Service
CT Scanning
A CT scan, sometimes called a CAT scan, typically will be used to determine the thickness of your bone and to better guide implant placement prior to bone graft and implant surgery. With the aid of advanced computer software, Dr. Shen plans the dental implant procedure using the information from your scan. When she performs the surgery, she already will be familiar with your unique anatomical needs. For your convenience, we have an in-house CT machine.
Strict Sterile Protocol
Your safety is our primary concern, and we use a very strict sterile protocol when it comes to your procedure—from drapes to bib covers to gloves. We will also disinfect your mouth before the surgery and use antibiotics to cut down the risk of infection. As a result of this diligence, our infection rate is very low. We have three highly-trained surgical assistants to assure a smooth process. Additionally, Dr. Shen has completed advanced training with Dr. Carl Misch at the world-renowned Misch Implant Institute.
Dental Sedation Options
To enhance your comfort and reduce dental anxiety, we offer sedation dentistry options like oral conscious sedation an IV sedation to help put you at ease. If you are nervous about your procedure, we encourage you to discuss your concerns with us. We will endeavor to make your experience as pleasant and anxiety-free as possible.
State-of-the-Art Laser Technology
A Water Laser is utilized in our office to help during soft tissue and hard tissue surgery. In addition, this technique is also used to expose the healed implants during the restoration process, reducing discomfort and expediting recovery. The Water Laser can cut down the treatment and appointment time, since we combine multiple procedures in one appointment. This modern technology plays an important role in dentistry, providing greater comfort and saving time for our patients.
The Smile By Design Difference
We have extensive experience treating a wide range of implant indications, from single implant to full mouth rehabilitation and complicated cases. Backed with extensive and intensive training from the world-renowned Misch Implant Institute, Dr. Shen is qualified to handle general to advanced cases. We are one of the few offices in the area capable of both placing the implants and completing the full mouth reconstruction with exceptional results.
You can be confident that Dr. Shen is competent, highly-skilled, and knowledgeable. Our practice maintains a very high success rate because of the careful treatment planning completed ahead of the surgery, as well as the in-depth knowledge and skill of Dr. Shen. Furthermore, we use some of the best materials available to optimize results. We take pride in our excellent work and our high success rate. It has always been our goal to provide the utmost, complete, and best possible care to our patients.
At Smile By Design, we proudly stand behind our work. We have many happy patients, and we welcome you to read our patient testimonial page to learn more about their experiences. We also recognize that your time is valuable. At Smile By Design, there is no need to travel from office to office to complete your treatment—we offer excellent results from under one roof. Contact us today for more information about our services or to schedule a $60 non-refundable consultation with Dr. Shen.*
*This fee can be applied to a treatment if the patient goes through the treatment. However, if no treatment is performed, then the fee is non-refundable.