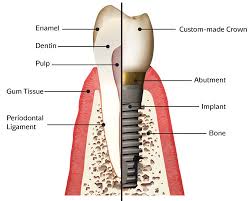 Missing or damaged teeth can occur for a wide range of reasons, including genetic predisposition to decay or disease, poor oral hygiene, and injury. Regardless of your unique circumstances, it's important to replace any missing teeth to protect the beauty and health of your smile. At Smile By Design, whether you're missing one, several, or all of your teeth, we will strive to achieve optimal results that are comfortable, aesthetically appealing, and long-lasting. Dr. Donian Shen, our extensively trained dentist and implantologist, can customize a treatment plan that is personalized to your individual needs and goals. If you would like to know more, visit our Implant Service page to learn about what makes our approach unique.
What Are Dental Implants?
Dental implants are comprised of two parts: the titanium root fixture, or post, and the dental restoration that is affixed on top. The titanium post will be placed into the bone below the gumline for a sturdy foundation. As a result, the implant can be stronger than the natural tooth. Once the healing process is complete, the restoration (dental crown, implant-supported dental bridge, or implant denture) will be attached. Dr. Shen endeavors to provide the most natural-looking outcome possible while delivering exceptional beauty and durability.
What Are the Benefits of Dental Implants?
Dental implants can offer a multitude of benefits. By utilizing the most advanced techniques and technology possible, our experienced team can often further enhance your outcome. Designed to replace missing teeth, implants can also:
Enhance your comfort when eating and speaking
Preserve jawbone integrity and strength
Minimize the risk of teeth shifting in the surrounding area
Reduce wear and tear on the gums and soft tissues
Improve bite alignment and function
Provide long-lasting, aesthetically appealing results
Additionally, dental implants can be just as easy to care for as your natural teeth. Normal brushing and flossing will help to keep your implants in excellent shape for the life of your smile. It's important to note, dental implants and implant-supported restorations are currently the only tooth replacement options that can aid in maintaining the density of your jawbone. Without the tooth and root structure, your body may gradually absorb the bone tissue, leading to significant changes in your facial shape and appearance. Dr. Shen will discuss this possibility and how to avoid it during your initial complimentary consultation.
What Should I Expect?
When you arrive for your first appointment, Dr. Shen will perform a comprehensive evaluation of your teeth, gums, and oral structures. This will also include an oral cancer screening. Ideal candidates will be in good general health and free of periodontal disease. Dr. Shen will then customize a treatment plan based on your anatomical needs, such as existing gum and bone support, as well as your cosmetic goals. The number of dental implants will also be determined by these factors to ensure the best possible outcome.
The dental implant procedure typically consists of five parts:
Consultation
Implant Placement
Surgery to Expose Implant (depending on your needs)
Impression
Crown Attachment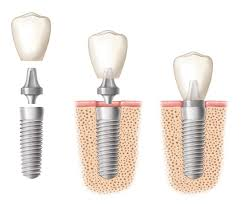 After the consultation, your surgery will be scheduled. During this procedure, Dr. Shen will implant the titanium post (or posts, depending on your treatment plan), into your jawbone. It will take some time for the implants to fuse to the jawbone after this operation. Once your bone has taken to the implants, Dr. Shen may need to clear away some gum tissue to expose the implants; however, not everyone will need this secondary surgery. The next step is the impression. She will take models of your mouth to create a customized restoration that best suits your existing bite and your desired aesthetics. Once the restoration is delivered, Dr. Shen will affix it to your implant. The entire process typically takes between four to eight months to complete. Though patience will be necessary, the result should be worth the wait. Your new dental implants are designed to provide the same appearance and function as your natural teeth and to last for many years to come.
Dental implants can seem complicated, but we're here to help. Contact us today for more information about how dental implants can help you. Our friendly team can answer questions or schedule you a complimentary consultation with Dr. Shen.