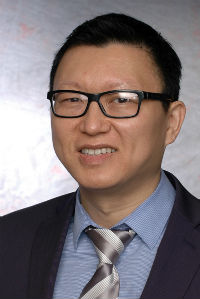 Dr. Wei Nguy received his Doctor of Dental Surgery (DDS) degree from the University of California in San Francisco (UCSF), and he is an advanced general dentist. He is also passionate about the care he provides for his patients. Dr. Nguy's personal philosophy is that caring is an attitude of the heart, excellence is a state of mind, and work is an act of love. If all these factors are combined, high quality results can be achieved. Dr. Nguy pursues this goal every time he is providing dental care to our patients.
Dr. Nguy grew up near Frankfurt, Germany, where he holds a dental degree as well as a PhD degree from the University of Bonn. The thesis of his research was about adhesive cosmetic materials in dentistry. Dr. Nguy is highly trained and experienced in all aspects of dentistry, with a particular emphasis on aesthetics and endodontic treatment. He is an active member of the American Dental Association, the California Dental Association, and the American Association of Endodontics.
In his free time, he enjoys spending time with his two children.
For more information, please contact our office. Our friendly and knowledgeable team is happy to answer questions and to help you schedule a free consultation.*